When you can team a great day out – spectacular hotrods and muscle cars, live music, loads of fun – with the opportunity to raise money for cancer research, it is a definite win-win situation.
Supported by the Newry 8s Hotrod and Muscle Car Club and the Gippsland Motorplex, we are teaming up with the Maffra Cancer Council Unit to provide a fun family day, with a fantastic display of vehicles in the grounds, live music from the Rusty Rockers, dancing demonstrations from the Lakeside Rockers, plenty of food and drinks and a great atmosphere.
Cool Cars Kickin' Cancer will be held in the grounds of the GVC at 1A Sale Rd, Maffra, from 9am Sunday, 22 September, sponsored by Shannon's Insurance.
There will be a wide range of high-quality cool modified cars on show, and there will even be a couple of celebrity sightings to be had … Mad Max will be there with his amazing fire-breathing Humungous and there is a rumour going around that there will be at least 2 Elvis's in the building.
The Newry 8's will start the day off with a run that will leave the GP Hotrod Shop in Wurruk at 9am and take the long way to Maffra before driving up the town's main street to make their entrance at the GVC at 10am. Everyone is welcome to join the run, it is just asked that you make a donation to the Maffra Cancer Council Unit.
The Gippsland Motorplex will bring along some of their fantastic vehicles including the Smknbug, a highly modified 1969 Volkswagen dedicated burnout car.
So don't miss a great day out for all the family – entry to the grounds is by gold coin donation and if you want to see the Bygone British Marques Display and Model World Maffra while you are there, entry is at a discounted rate of $10 for the day – kids 15 and under are admitted free. All proceeds go to the Maffra Cancer Council unit.
Bring your own cool car for the display, or just come and have a look at a great range of fascinating vehicles.
The Maffra Motoring Meander is also coming up, on the weekend of 19 and 20 October. The two day-tours have been designed to suit self-paced driving in vintage, veteran and classic cars, but modern vehicles are also welcome to participate.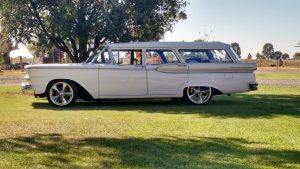 Saturday will be a 150 kilometre run around the north and west regions of Maffra, while Sunday's run will centre around a treasure hunt – bring the whole family for lots of fun.
Saturday night's Meander Dinner, to be held at the Maffra Memorial Hall, will feature guest speakers George and Marguerite Morgan, who will be talking about their experience in the Montlhery Vintage Revival in France earlier this year. The couple entered their historic 1932 MG J3 car in the event, returning it to the location where it had broken three world records.
Cost of the dinner is $35 a head, and it will be a night of great entertainment and company. Bookings for both days of the Meander, and the dinner, must be made with Sue Lawrence by the end of September. She can be contacted on 0455 556 542.