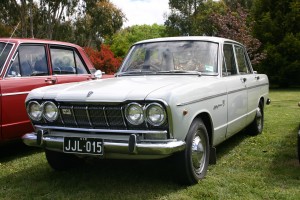 "I've got quite a few cars, but I'm not attached to any of them except the Prince. I've told my kids, if ever this house catches on fire just make sure you get the Prince out – nothing else matters, just get the Prince!"
Such is the devotion of Melbourne's Stephen King, who says his Skyline Prince is the only vehicle he owns that he couldn't just go out and replace.
"You can't buy them; they aren't for sale. There are about 30 of them on the road in Australia and another 30 in various states of bits and pieces that you could probably do something with," he said.
Mr King's 1967 Skyline Prince BE2 is on show as part of our Japanese Vehicles Display, along with two others owned by his mates – Stan Waters' BE3 and Jason Quigg's A Model – one of every model made.
"There were only 320 brought into Australia – 30 A models and 290 BE2s and BE3s. The BE2s and 3s were the race versions and they came with triple webers as standard and were optioned with a 100 litre fuel tank and limited slip diff," Mr King said.
Mr King's BE2 is in original, unrestored condition. It has had four owners, and came with its full history, from the day it was delivered, when he bought it in 2002. His love for the Prince began in 1969 when he started work at Chequered Flag Motors in Doncaster.
"One of the first cars I drove and worked on was a Skyline Prince, and I decided then and there that I wanted to own one," he said.
"I bought my first one in 1986 and I've had five of them. When you drive them, they sound like a race car should sound.
"For its era, there was nothing else that was anything like it. They were good for 200 km/hr when they were built, and there wasn't much else that could do that. They had disc brakes when pretty much everything else had drums. They were a pretty unique car for the day."
Mr King also also has his original condition Datsun 1600 and R31 GTS on show at our Maffra Motor Museum, 1A Sale Rd, Maffra, until the end of February 2016.